(Custom Order by Batch Only - Please Inquire Separately)
________________________________________________________________________
Zensoaps Scrubs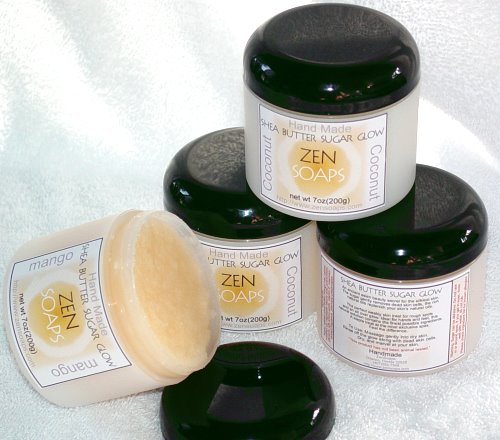 •Exfoliate your skin naturally with sugar (removes dead skin cells) while rejuvenating and preserving the new skin underneath with luxurious oils.
•Our proprietary formula is unique. We developed it over 6 months of expensive trial and error and it's a favorite with everyone who tries it.
•Nongreasy, the feel of your skin after use is amazing. Our biggest raves come from men, especially men who work with their hands, as it softens cracked and damaged calloused skin in just a single use.
•For those with tender skin, it is even more effective, as the enriched oils penetrated more easily to deliver the finest oils containing vitamin E and GLA amino acids (some of the oils we use in this scrub are sold as vitamin food supplements in health food stores).
•Your skin breathes, eats and drinks from the outside in as your stomach does from the inside out. Our products focus on nourishing your skin.
__________________________________________________________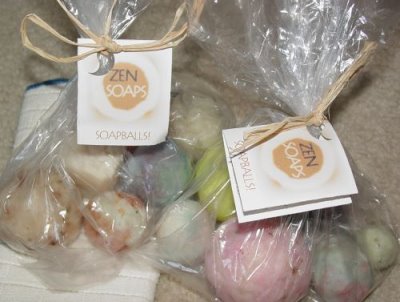 Zen Soap Balls
When we cut our soaps, we have trimming and soap ends left over. Sometimes we make test batches for new scents or colors. In each case, we take these 'scraps', which are perfect soap but not shaped, and make hand shaped soap balls.
They are our same great formulas, 100% tested, and wonderful soap in every way. They are just not shaped bars of soap. We find them cute and sometimes more fun to use than our regular bars. They can be very decorative also in a container.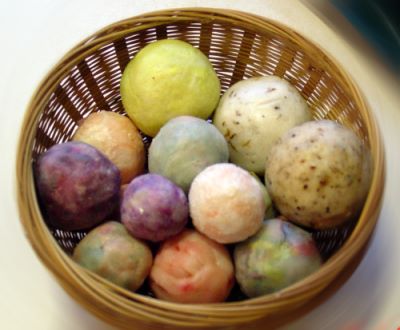 The balls range in size from 1" in diameter to 3" in diameter, and we do not guarantee a soap type. Each ball is a surprise. We do guarantee a variety of colors and scents. This is a great way to decorate your bathroom with color, and have small guest soap balls as well as bigger bath balls.
These are of limited quantity and when we run out, it would be difficult to say when they would be restocked, because again, we must have enough scraps to make them, and make them look interesting for you.
Not only are our Original and Fresh collections included, we will have assorted other balls in various colors and scents as well.
________________________________________________________________________
Zensoaps Clay Mask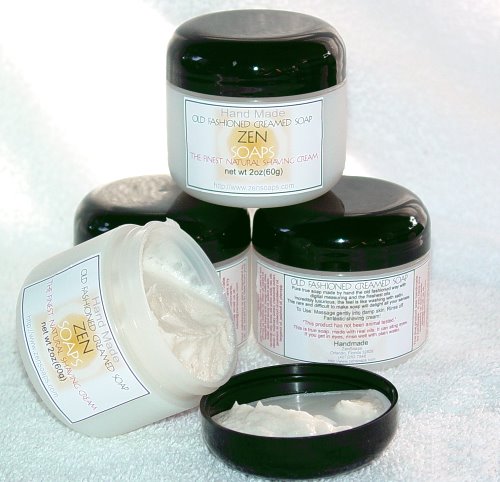 (image coming soon, packaging/label similar to shown). 2 oz size.
Clay has been used for thousands of years to detoxify the skin. They are minerals that are made from crushing mineral rocks, both naturally and with machinery. Even animals search out clay in nature to cover their wounds and help heal their ills. Some people carry forward this instinct so profoundly that they crave clays to eat. Clays are found in many medicines as well. Most stomach products, such as Peptobismo contain clay as an ingredient.
Bentonite clay is most often the focus of extensive scientific research into clays, for medicinal benefits.
When bentonite clay absorbs water and swells, it is stretched open like a highly porous sponge; the toxins are drawn into these spaces by electrical attraction and bound fast. It is negatively charged, while most toxins are positively charged. According to the Canadian Journal of Microbiology (31 [1985], 50-53), bentonite can absorb pathogenic viruses, aflatoxin (a mold), and pesticides and herbicides including Paraquat and Roundup. The clay is eventually eliminated from the body with the toxins bound to its multiple surfaces. Bentonite clay is reputed to be the only treatment that is effective for drawing out the toxins from the bite of Brown Recluse spiders, one of the most dangerous toxins known.
Our mask is bentonite, in a creamy base of luxury oils. It not only will detoxify your skin, it will help to improve and condition your skin tone and remineralize missing elements. Used once a week, you will see and feel a difference.
________________________________________________________________________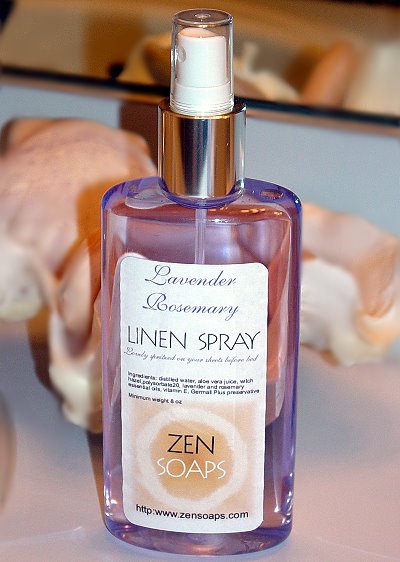 Linen Spray/Facial Toner

Minimum Order 8 bottles
Price: $40/8 bottles- 8oz size minimum per scent.
Price: $60/15 bottles 4oz size minimum per scent.
Our Linen Spray are made in small 8 bottle batches. Therefore they are all 'custom' for your business. The actual method of making them is nearly identical to Victoria Secret's or Bath and Body Works Spray, which retail for quite a bit higher than double our wholesale price to you, except our formula contains no alcohol.
Our rich formulation is a base of distilled water, aloe vera juice, witch hazel, and Vitamin E. Perfect for body as well as Linen, it is designed for skin, but will not stain your sheets.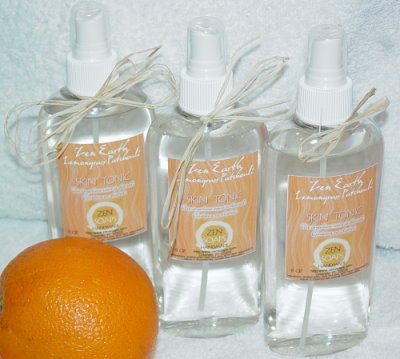 We call this linen spray, to show how gentle it is, the reality is, this is a skin conditioner containing ingredients that wil help close pores and condition skin. Most of our customers use it for this purpose, and notice improvements to their skin. If heavy creams and moisturizers are too much, this is what you need.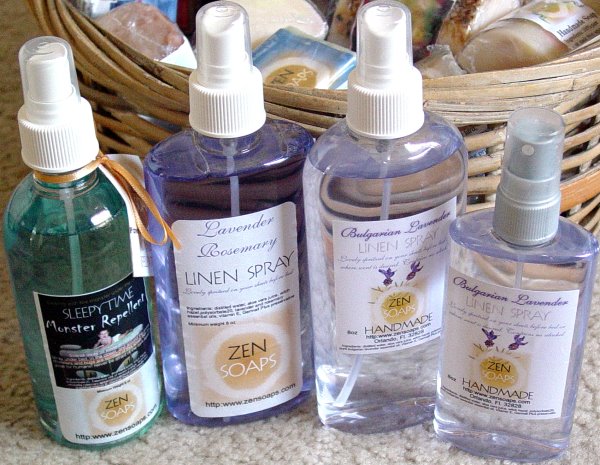 ________________________________________________________________________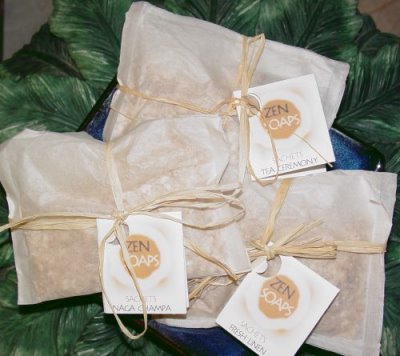 Scent Sachets
Versatile, packed 2 to a packet, these cute little sachets are very popular at our shows. They can be used anywhere scent is desired, from your lingerie drawers, to your sports shoes. When the scent begins to fade, tear them open and vaccum the contents up and freshen your vaccum cleaner!
Your choice of scents, match them to our linen sprays!

________________________________________________________________________
ZenSoaps Muscle/Stress Relief Massage Oil
Our oil is unique. It is not the standard mineral or almond oil base with scent added. This is made from expensive blended luxury oils, with essential oils that are not merely for scent, but for function. When we say muscle/stress relief, we mean just that. The essential oils we use in this blend are among the most expensive available and used in aromatherapy and muscle treatments. These include nutmeg, black pepper, marjoram, petitgrain and other essential oils, well known for pain relief and muscle benefits. We tested this formula extensively ourselves and find that it is simply amazing.
It is expensive, because our ingredients are expensive. But there is no finer options available.
________________________________________________________________________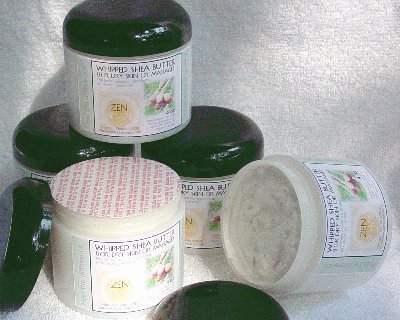 Whipped Shea Butter
Just as the name describes, this is pure shea butter, whipped with luxury oils.
Shea butter comes from the nut of the fruit from the karite tree found growing in West Africa. The most common species is butyrospermum parkii. Natives have been using shea butter for beautiful skin and hair for generations. The butter has many natural skin benefits including natural sun protection. In Africa it is rubbed all over the body and hair to protect the skin and hair against rough elements. It is also used to cook with. In Europe, shea butter is imported and refined in enormous amounts. European companies use it in thier chocolates and famous skin care products.
This is the real thing, pure and rich. It is not a small fraction of shea butter, it is all shea butter, diluted with a small percentage of fabulous oils to make it whippable and give it a slightly less greasy texture.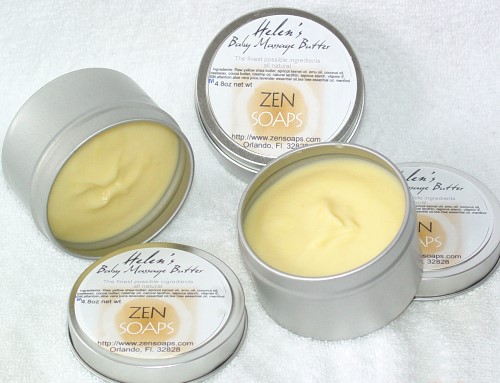 There are testamonies for its use in lightening scars after surgery or even years later, healing eczema and psoriasis, or as the ultimate skin protection against the elements, both hot and cold. We are not making these claims for our product, we have not tested them for these uses ourselves (except as a stretch mark prevention, for which it is remarkable). You can find information on shea butter from thousands of sources on the internet or the library. It has been studied for it's ability to help regenerate skin. Shea butter is so wonderful, that we have to include this as an offering. You can use it anywhere, safe for anyone and it's edible.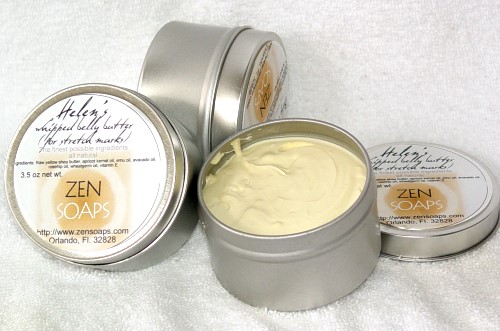 We use it for after sun care, and general dry skin care, or for massage. Our shea butter is all imported from the Central African nation of Togo, a small country located between Nigeria and Ghana. It is produced in villages by women who hand pick the fruit, hand dry and hand mill it, the same way it was produced 1000 years ago. We are proud to say that by selling this prorduct, we are helping women become self sufficient financially, in a very poor area of the world. This is not the reason you want to use this product however, the reason is because it is good for your skin and you will love it.
We also make custom versions of our whipped shea as shown, these are our proprietary formulations that are of amazing benefit for their specific purposes.
________________________________________________________________________
Bath Candies!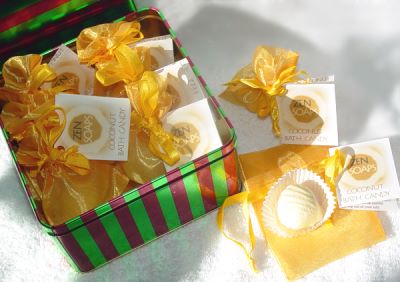 Our newest addition! This is a bath 'bomb' or 'fizzy', with an extra load of skin loving cocoa butter.
Absolutely perfect for those who wish to give 'candy', but are not sure if the recipient can eat it (diabetic or watching the calories). It carries the same sentiment, the same elegance, but not the same disadvantages. Everyone can soak in the tub, and it's the perfect thing to encourage some people to take some time for themselves!
These little gems are small, the size of real candy, but they are loaded with goodness. Very pampering and silky for the skin, your customers will love em!
We sell these in a 4 pack as shown, with 4 different 'flavors': strawberry, cocoa, vanilla, pineapple, coconut (the last 2 are interchangeable, or simply select the 4 you prefer, all are custom made for your order).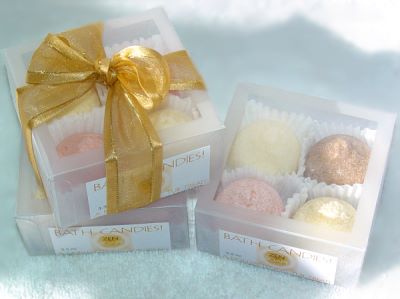 4 pack in frosted box with clear top, tied with raffia or ribbon
Minimum Order - 12 boxes
(subject to packaging availability)

We will also package these individually (like bath fizzies)
Individually packaged Price (wrapped in candy cup and organza bag with a hangtag. Custom tag if you prefer, at no extra charge): $2 each
Minimum Order: 35 pieces per type.

________________________________________________________________________
Under Development
We are constantly working on formulating and testing new products for inclusion in our line. We do not always offer them for sale immediately. Each new product formulation is tweaked until it is perfect, for it's usefulness, durability and demand. Here are a few items we are working on, we are sure you will love them as much as you love our current line of products:
Zensoaps Lip Butter
Rich and long lasting, lip conditioning in the finest sense of the word. No petroleum products, no cheap oils. Your lips have never felt so supple and conditioned.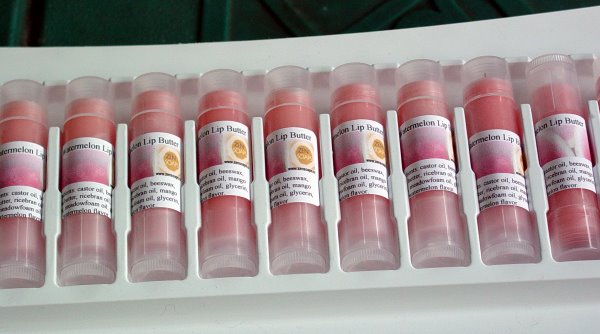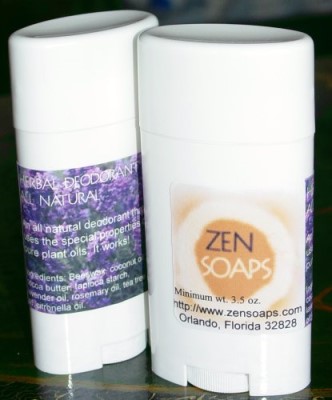 Zensoaps Deodorant
NOT an antiperspirant, you will still perspire, you simply will not smell.
This comes in one scent only, as it works from the synergistic blending our pure essential oils.

It works. It even works on construction workers who sweat all day long. Due to the fact that it is a rich oil base, you can use it as a lotion bar for moisturizing as well. As this contains no chemicals, it will not stop your glands from perspiring, it does not simply mask odors however, it actually kills the germs that cause odors, naturally.
We formulated this for pregnant women whom do not wish to use chemicals on their sensitive underarms so close to their lymph nodes. During the hormone changes of pregnancy, many women notice an odor problem they have never had before. This is the best solution, and the most natural.
Of course, we tested it on the smelliest people we could find. It works.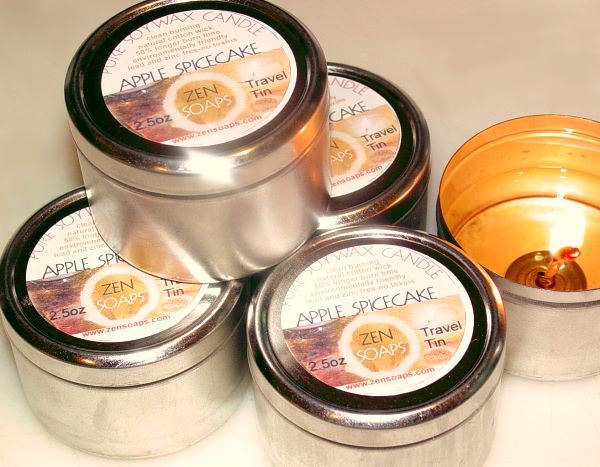 Zensoaps Travel Candles
We love scents. When traveling, sometimes the scents overwhelm us, and we long for a touch of 'home''.
This scent is one of our favorites, and we make it for ourselves.
It is 100% pure soy wax, with real hemp wicks, no zinc, no lead, no chemicals. Clean burning, and healthy.
If you love candles, try ours.
Zensoaps Bath Teas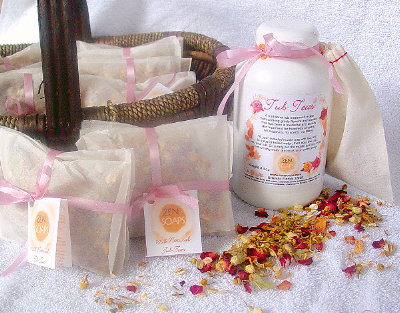 These are teas! That's right, the kind you can drink. We blend the most delightful herbs and synergistic essential oils to delight you in your tub. Dried herbs like lavender flowers, rose buds, chickweed, peppermint, lindin flowers, chammomile flowers, rosehips, feverfew flowers, calendula petals, which will both scent and invigorate your skin. Why just drink tea? Your skin drinks too. You can also use these for potpourri in your home. Food grade dried flowers and herbs masterfully blended.
(Photo coming soon)
Zensoaps Pet Line!
Doggie Shampoo
Scent Neutralizer - works on all organic odors.
________________________________________________________________________
Please email us anytime if you have any questions at helen@zensoaps.com
Sincerely,
Helen Starkweather
ZenSoaps
©Copyright ZenSoaps. All Rights Reserved.2002, 2011