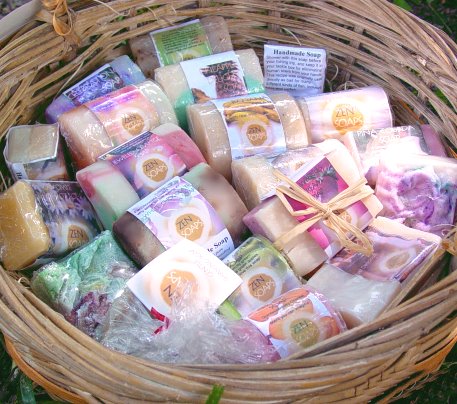 To Visit ZenSoaps Online PetCare Shop, please
Click Here
ZenSoaps only sells soaps by the Batch. With ingredient costs going up daily, our decision to switch to batch sales enables us to keep our prices low, while continuing to offer you uncompromising quality.
Why ZenSoaps?
•We ensure freshness and suitability by making new batches for each order.
•Everything we sell is handmade by us.
•Our proprietary formulas are tested for perfection and quality
Note: HP soaps are inherently more rustic and 'bumpy' looking than smoother CP. What they miss in appearance, they make up for in the more luxurious feel. All our soaps are HP unless otherwise noted or requested.
• The finest possible ingredients.
• Our soap is good for your skin.
• We look forward to delighting you!
Bar Size - a huge 5 oz half round bar unless otherwise noted
Our standard bar size is 5oz, made in the 1/2-round mold. Special batches may be square, round or other shapes. A batch is roughly 130 oz of pure ingredients, not counting water weight (there will always be some water weight in handmade fresh soaps).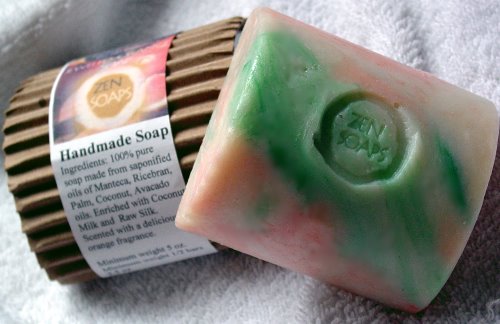 Packaging - All bars will be packaged in our standard paper wrapper over corrugated cardboard unless otherwise specified.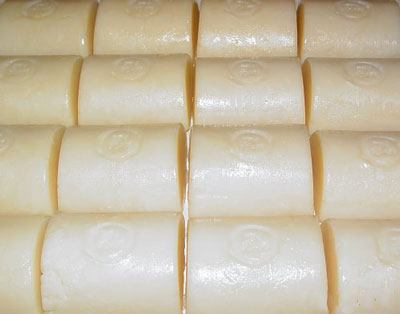 Terms and Conditions
We are a small company and currently do not offer terms. All product are fully paid at time of delivery.
We try to make ordering a simple and painless process. Simply email us your order, tell us what you are interested in, we will call you or email for order confirmation and payment once we agree to accept your order. We will keep you up to date on progress for all orders.
Shipping:
Turn around time for a batch is typically 3 weeks, because of curing time for the soaps, and to allow for early shrinkage. These will arrive within a month anywhere in the continental USA (we cannot ship out of country, the shipping weight would make it prohibitive). Shipping charges are actual, we charge no extra handling or packaging fees.
Free Local Area Delivery(Central Florida only)
Payments:
50% deposit is due on orders at the time of our acceptance of your order, we will send you an invoice. The balance, plus shipping, is due when we notify you that we are ready to ship.
We can fit a full batch into the Large Flat Rate box. This is substantial savings on shipping because a batch of soap is heavy.
All our payments are via Paypal. We will invoice you with directions after we accept your order.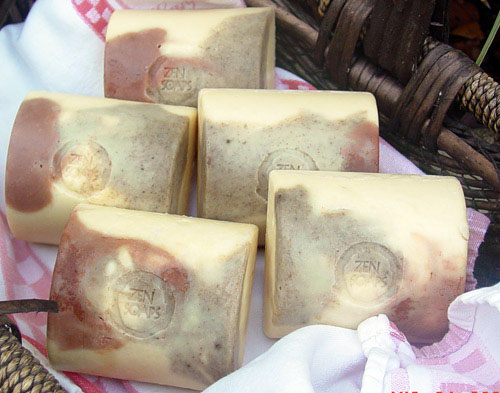 - Paypal accepts payments via Visa, Mastercard and other credit cards, you may check for other cards at: www.paypal.com
- we use paypal because they offer buyer protection for your peace of mind, offer an online shipping module, and we need never see your personal payment information. Paypal is owned by Ebay, so it is safe to use.
Guarantee:
If any product proves defective in any way, we will replace the defective product or refund your purchase price within 30 days of delivery with return of the unsatisfactory merchandise. Your satisfaction and continued business are important to us.
Contact us for orders at: helen@zensoaps.com
Thank you and we look forward to years of providing you with soap!
___________________________________________________________
Pricing is $180 per Batch, Plus Shipping, unless otherwise noted ($6.43 per bar)
In our 1/2 round molds, a batch = 28 -5oz bars of soap.
Weight = 5 oz after curing
- approximately 4.5oz after 6 months of curing.
One Batch can fit into a large Flat Rate USPS box - the current rate is: $13.67
Original ZenSoaps:
Earth, Fire, Water, Wood, Metal. 5 elements, 5 soaps. Our original zen line, and still the favorites.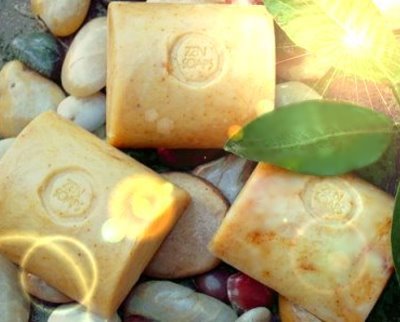 Earth Soap - Refreshing & gently Astringent Formula
- Luxury animal & plant oils
-Scent: Lemongrass, Litsea, Patchouli
Earth has a lovely, earthy, fresh and vibrant scent from pure lemongrass and patchouli essential oils. This clean rinsing non-drying pure soap will help wake you and impart some energy to your day.

It is colored with tumeric, the symbol of immortality in Indian lore, and used for centuries in skincare.

This soap is handmade from only ingredients found in nature. We believe this soap represents a pure balance of 100% natural animal and plant ingredients. Just like the balance of our Earth.

Ingredients: 100% pure soap made from organic aloe vera juice, saponified oils of lard, rice bran, palm, coconut, jojoba. Enriched with coconut milk, tumeric, morrocan red clay, raw silk, lemongrass and patchouli essential oils.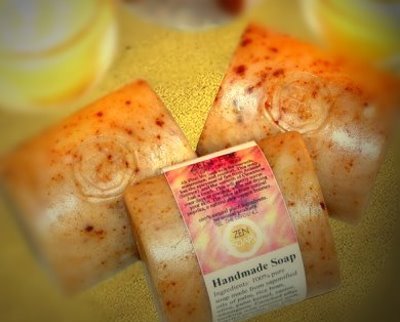 Fire Soap - Dry Skin Formula
- Luxury Vegan blend (100% plant oils)
- Scent: Anise, Orange, Cedarwood

Ah Fire! We look to it for warmth, sustenance, and comfort. This soap has the spicyness of fire from Aniseed (licorice), and the warmth of cedarwood. This will gently delight your senses, while not drying your skin.
The color is from natural paprika, a natural skin oxygen booster and often used in the finest spa masks.

Very soothing to aching muscles, this non drying formula is a complete delight for chilly mornings and the blend is wonderfully aromatic!

100% natural plant ingredients, No animal products.

Ingredients: 100% pure soap made from saponified oils of lard, shea butter, rice bran, coconut, castor, jojoba. Enriched with coconut milk, edible kaolin clay, pure Bulgarian lavender essential oil.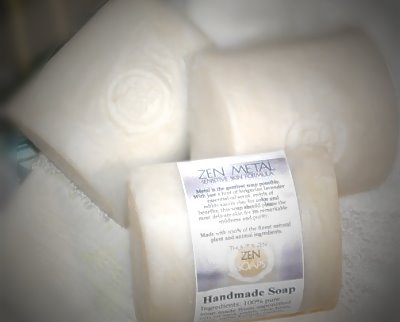 Metal Soap - Sensitive Skin Formula
- Luxury animal & plant oils
- Scent: Light Bulgarian Lavender scent with mild Kaolin Clay for gentle detoxification.
With the soft hint of bulgarian lavender essential oil, this soap should please the most delicate skin for its remarkable mildness and purity.

Metal contains no oils that have been known to be sensitizing. This is gentle enough for a baby, and very lightly scented for those who do not like strong scents.
Swirled with edible kaolin clay to enhance the natural beauty of the bar, as well as provide the detoxifying benefits of one of nature's most beneficial clays. Superfatted with jojoba oil, which matches the skin's natural sebum, this is all around the best sensitive skin soap anywhere.

Made with 100% of the finest natural plant and animal ingredients.

Ingredients: 100% pure soap made from saponified oils of lard, palm, rice bran, coconut, jojoba. Enriched with coconut milk, edible kaolin clay, raw silk, pure Bulgarian lavender essential oil.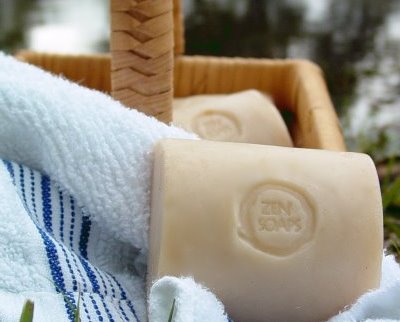 Water Soap - Oily Skin Formula
- Luxury Vegan Blend (100% plant oils)
- Scent: Peppermint Eucalyptus essential oils
'Water' is a refreshing and 'tingly' peppermint teatree essential oil blend, a delightful wake up with benefits for oily skin. Uncolored, Water has the perkiness of a splash from the ocean and rinses very clean. This is a man favorite.


Ingredients: 100% pure soap made from saponified oils of palm, rice bran, olive, coconut, jojoba. Enriched with coconut milk, pure peppermint and teatree essential oils.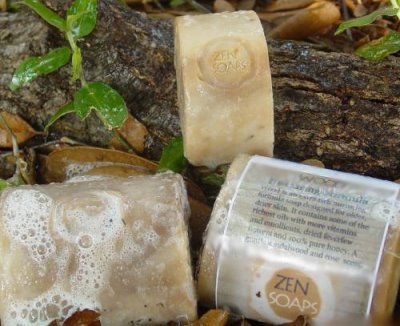 Wood Soap - Premium Nurturing skin formula
- Premium animal and plant oils
- Our most Luxurious Soap
- Scent: Sandalwood and Rose
Wood is an extra rich formula soap with ingredients for older, drier skin. It contains some of the richest oils, including macadamia and avacado oils, with more vitamins and emollients, 100% pure honey, raw silk, comfrey powder and dried feverfew flowers for gentle exfoliance. We add infused calendula oils when available. Rose and Sandalwood essential oils or fragrance oils
This soap is to die for, and the one you must experience. I won't travel without a bar of it in my bags!

Ingredients: 100% pure soap made from saponified oils of olive, lard, ricebran, coconut, shea butter. Enriched with evening primrose oil, avocado oil, macadamia nut oil, wheat germ oil, comfrey powder, raw silk, feverfew flowers and pure Florida honey. With soft sandalwood and rose fragrance oils.
Pricing: Wood Soap is $220 / batch 28 bars due to ingredient costs.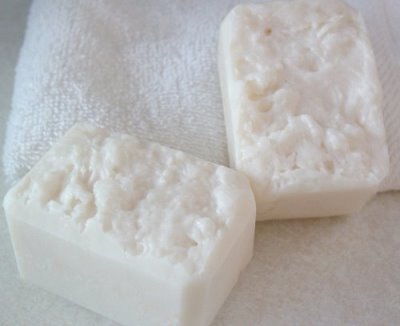 Unscented Soap - simply the smell of clean soap with no other scents. Hypoallergenic oils, perfect for the most worrisome skin and allergies.
- Luxurious animal and plant oils
Completely unscented and uncolored, just pure soap in our most nonallergic formula. Those with super sensitive skin and allergic to everything will truly appreciate this soap. It contains absolutely nothing but the most neutral oils. New batches are now in our large 5oz sizes!

Pure soap that is more pure than any soap made anywhere. Our oils are so fresh and fragrant, you will think it's gently scented. It is not. This is the smell of clean. Minimum Weight 5 oz.

Ingredients: organic aloe vera juice, saponified lard, rice bran oil, coconut oil, olive oil, palm oil.
Custom Soaps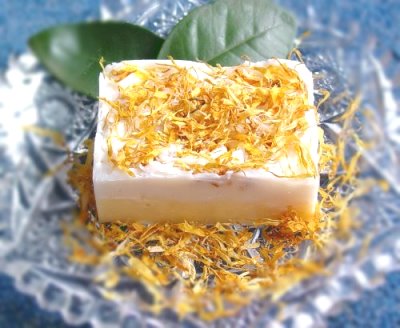 We are soap 'chefs', and our greatest enjoyment has always been the challenge of making creative unique-looking batches. These used to be sold in our online shop as 'specials'. However, each 'special' had to be photographed, described, and then uploaded to the store, cutting into our production time and increasing our expenses.
By offering only full batches, tailored to your needs, your color preferences, your ingredient choices, we are able to make each and every batch 'special', while continuing to provide our customers with the skin care benefits that set us apart.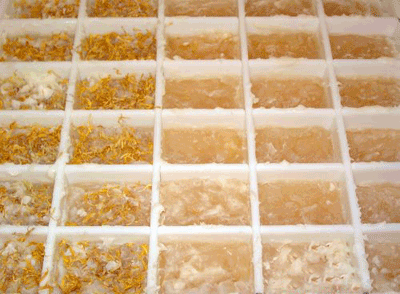 Choose your batch from our classic line of functional soaps, or give us precise specifications for a unique batch of soap. You can be the designer. We will do the rest. We continue to have satisfied customers over the years because we deliver on our promise of the highest quality in a beautiful and skin-nourishing bar of handmade soap.
What do you get from Zensoaps when you order a full batch?
28-32 bars of soap (depending on mold used) that are custom-made just for you. All batches offer luxury ingredients and are each carefully formulated using skin benefitting ingredients that we pride ourselves on.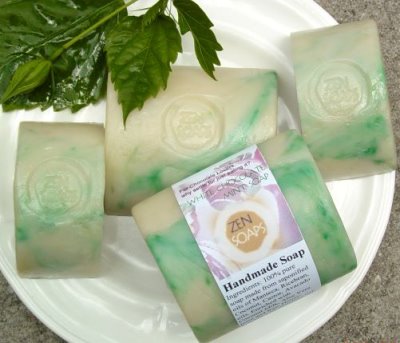 All our colored products use food grade colorants. Fragrances will always be natural essential oils where possible, however, fragrance oils will be used where certain scents do not exist in nature (there are no natural fruit scents, for example). We strive to ensure that all our ingredients are the safest, most natural, and the finest on the market. No batch will be shipped without meeting our standards for quality. You will always feel the difference.
Select your batch by:
Scent - specific fruit, flowers, our custom blends
Always Available Scent Blends - we blend or your specific mix & match (EO groups by similiar types, not blends)
| | | |
| --- | --- | --- |
| Pure Essential Oils and Blends | Hybrid Blends (EO & FO) | Fragrance Oil Blends |
| Lavender (Bulgarian or French) | Green Tea | Coconut |
| Peppermint/Spearmint | Zen Tea | Mango |
| Eucalyptus / Tea Tree | Celebration (hyacinth + EO) | Strawberry |
| Patchouli / Vetiver | Friendship (Green tea + EO) | Blueberry |
| Black Pepper / Cedarwood | Vanilla | Green Apple |
| Cinnamon / Clove / Allspice | Jasmine | Very Berry |
| Geranium / Palmarosa | Rose | Pikaki |
| Orange / Grapefruit | Sandalwood / Rosewood | Lily of the Valley |
| Lemon / Lime | Frankinsense & Myrrh | Gingerbread |
| Litsea / Lemongrass | Dragon Blood | Oatmeal Milk & Honey |
| Citronella / Bergamot | Chocolate | Apple Cinnamon |
| Ginger / Black Pepper | Herbal blends | Aqua di Gio type |
| Davana / Ylang Ylang | Hemp blends | Philosophy type |
| Anise / Basil | Citrus / Florals | White Linen type |
| coffee bean | Creme Brulee | tropical blends (sea/fruit/floral) |
Always Available Additives
| | | |
| --- | --- | --- |
| Gentle Exfoliance | Strong Exfoliance | Skin Benefits |
| ground oatmeal | rough ground oatmeal | honey |
| morrocan clay (pink to red) | loofah chunks | infused flower oils |
| ground herbs | lava sand (feet only) | aloe vera juice or gel |
| ground calendula petals | rough ground herb blends | coconut milk |
| ground green/black tea | whole lavender buds (blackens) | infused green tea |
| jojoba beads | rough ground rose petals | raw silk |
| dead sea mud | poppyseeds | kaolin clay |
| wheatgerm | ground coffee | egg yolks |
| bentonite clay | dead sea salt | fruit zests (lemon / pumpkin) |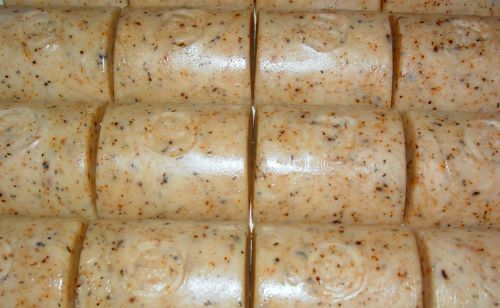 Benefits - moisturizing, acne, wake-up, dry skin, problem skin, allergic skin, specific ingredients or lack of.
Purpose - need a gardening soap with scrubby?
Here's one to the left. We use skin softening oatmeal for the scrubby, in an extra bubbly formula to get the dirt out of under the nails.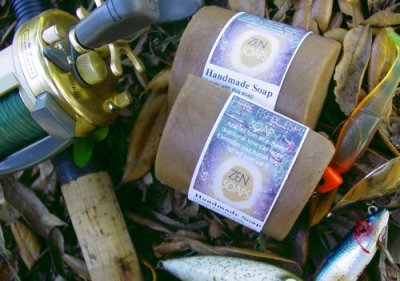 Fishing soap - we have a formula we adapted from someone who's family handed it down for 2 generations. It was used to keep human scent off of the hands when pulling fish out of the water - fresh water only.
It can also work as a hunting soap I've been told, although we've never tested that.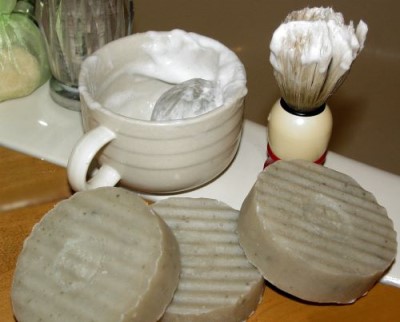 Shaving soap? Our bubbliest and slimiest formula that creates almost a gel on your face. Yes, it's pure handmade soap. Every oil has specific properties, and we know exactly what those properties are. While this will not be as thick as shaving cream, it is certainly better for your skin.
Ask, you may be surprised what formulatoins we can come up with and have already tested. We've refined a whole lot of soap formulas over the years:).
Decorations (cake-like, swirls, frosted, layered)
Or choose a sample batch below, and tailor pick the ingredients, scent and benefits. We are flexible because each batch is made just for you.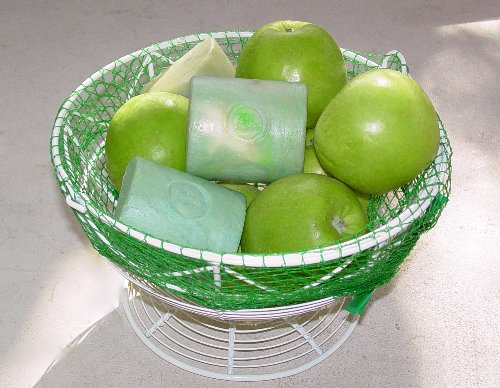 Green Apple Soap - all veggie, refreshing soap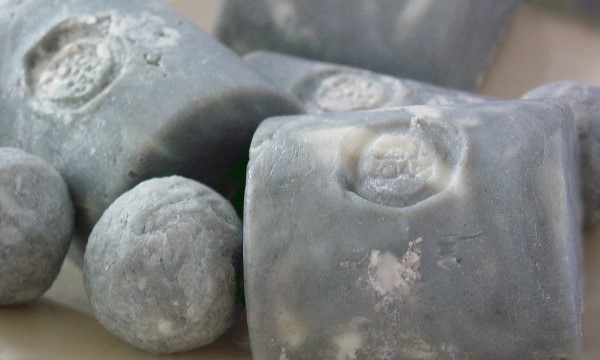 Bentonite Clay w/ dead sea salt - 'granite' soap for problem skin.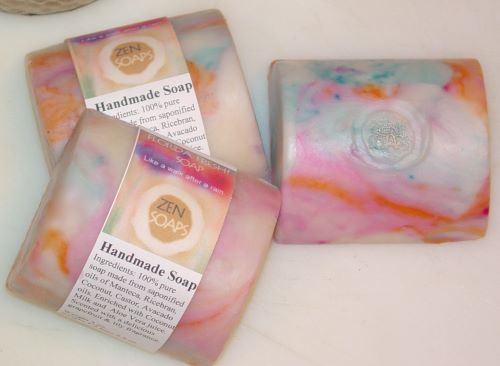 Florida Fresh - colorful 'fun' soap for dry skin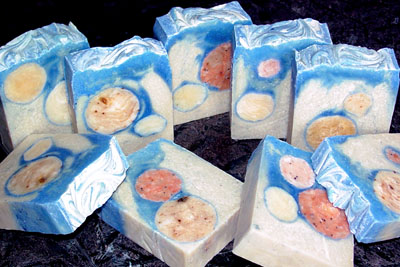 "Starry Night" soap - special gift soap batch.
- refreshing animal & plant formula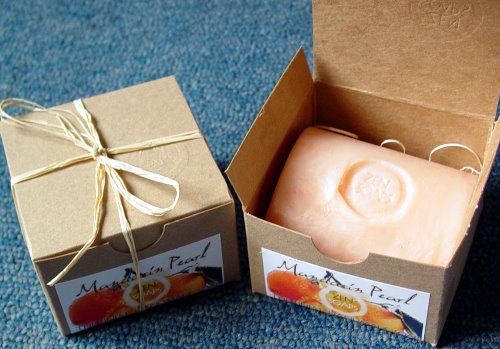 Mandarin Pearl - citrusy soap - special gift boxes
- oily skin animal & plant formula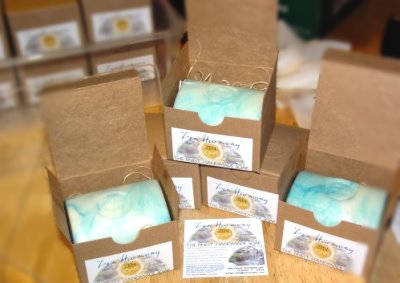 'Harmony' gift boxed soaps - refreshing all veggie formula
w/ raw silk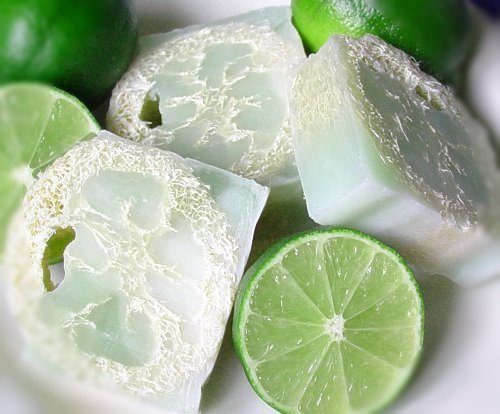 Lime Loofah Slice soap (embedded Loofah slices for maximum exfoliance)- rough skin treatment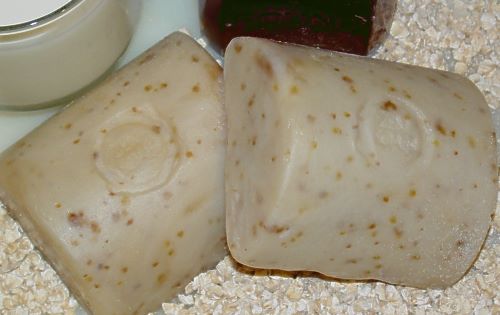 Skin-loving moisturizing Wheatgerm, Milk and Honey soaps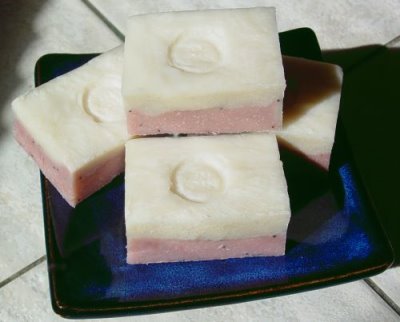 2 layer "Parfait" soap - strawberry and Vanilla layers
- animal & plant formula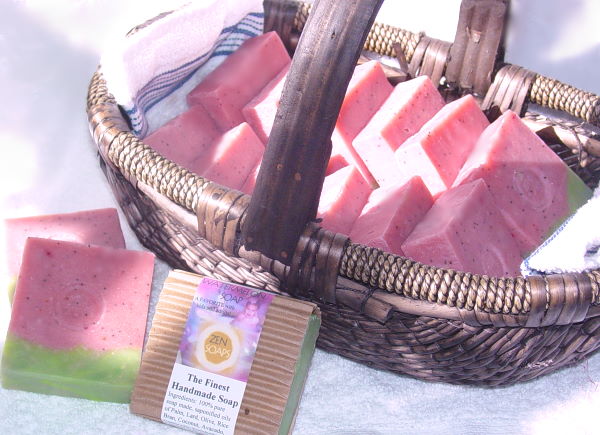 Watermelon Soap - 2 toned soaps w/ poppyseed
- Vegan formula
Let us know what you are looking for, and we will do our best to make it for you.
Please email us anytime if you have any questions at zensoaps@bellsouth.net
Sincerely,
Helen Starkweather
ZenSoaps
©Copyright ZenSoaps. All Rights Reserved.2002 - 2013